Swimrungoats des Baumettes à Cassis
[SWIMRUNGOATS🏊‍♀️🧗‍♀️🏃MARSEILLE CASSIS TRAVERSÉE]
📍 Les Baumettes, Marseille, Parc National des Calanques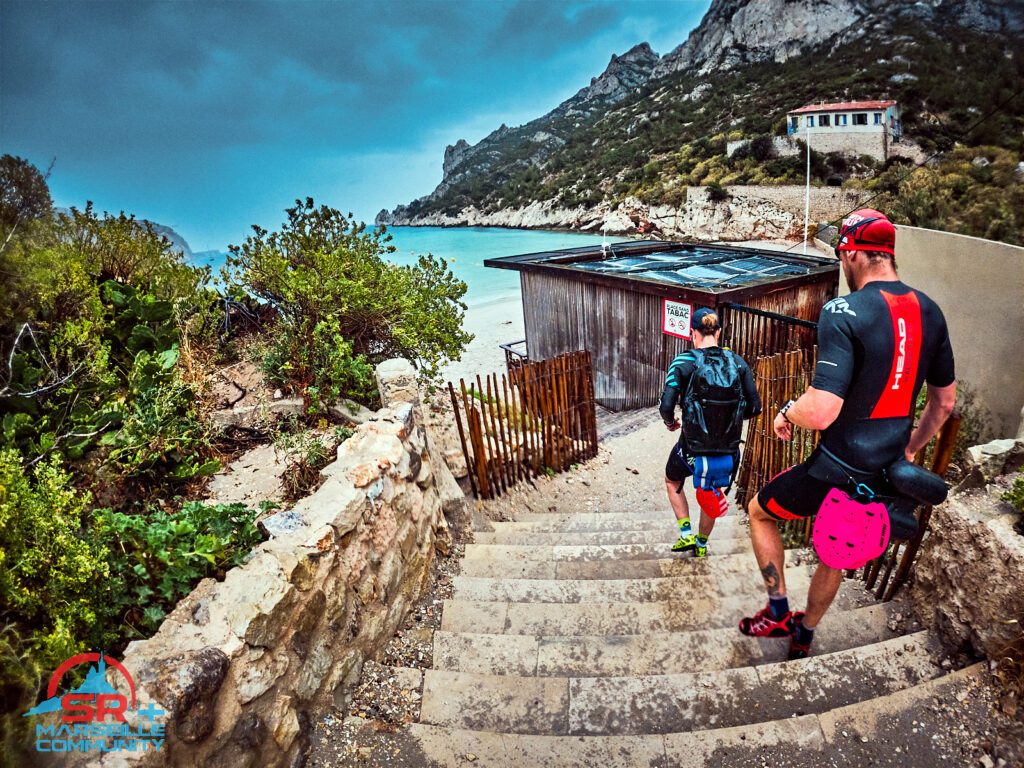 🇫🇷Dimanche pluvieux, swimrun fabuleux ! Quand la pluie s'invite dès l'aube, le run de départ ressemble à un baptême. Ben, Jess et Akuna pensent aux gargouilles des Baumettes, ces sculptures grotesques qui ornent la prison voisine. Elles incarnent les sept péchés capitaux, et le péché de gourmandise pourrait bien nous valoir l'ire du curé des calanques tant nous savourons cette nature enfin abreuvée.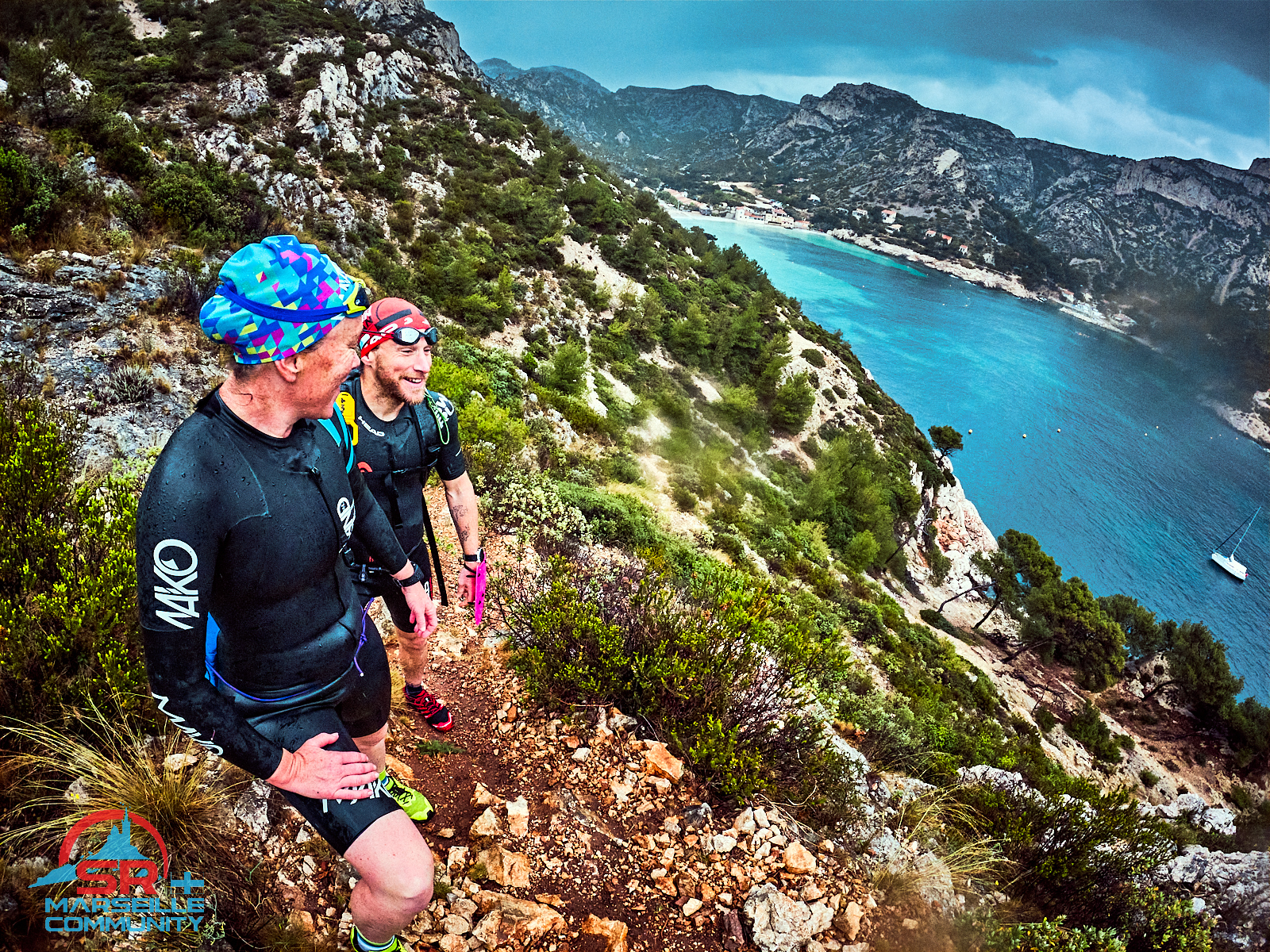 Nous sommes seuls sous la pluie battante en ce début de matinée. Quelques kayaks croisés à la sortie du siphon de la grotte du Capelan nous voient émerger des profondeurs. Un aréopage de méduses nous attend du côté est de Sormiou, ce sera nos compagnes à l'humour piquant tout au long de notre traversée. La formation Ben + Akuna et Jess en ligne, (avec Ben faisant office de brise-glace avec ses paddles) se révèle efficace, la plupart des Pelagia noctiluca ayant la bonté de rester à un mètre de profondeur. Un coup de stress dans la passe de l'Eissadon où nous étions tels un convoi de marchandises, durant la Seconde Guerre mondiale, slalomant entre les mines allemandes.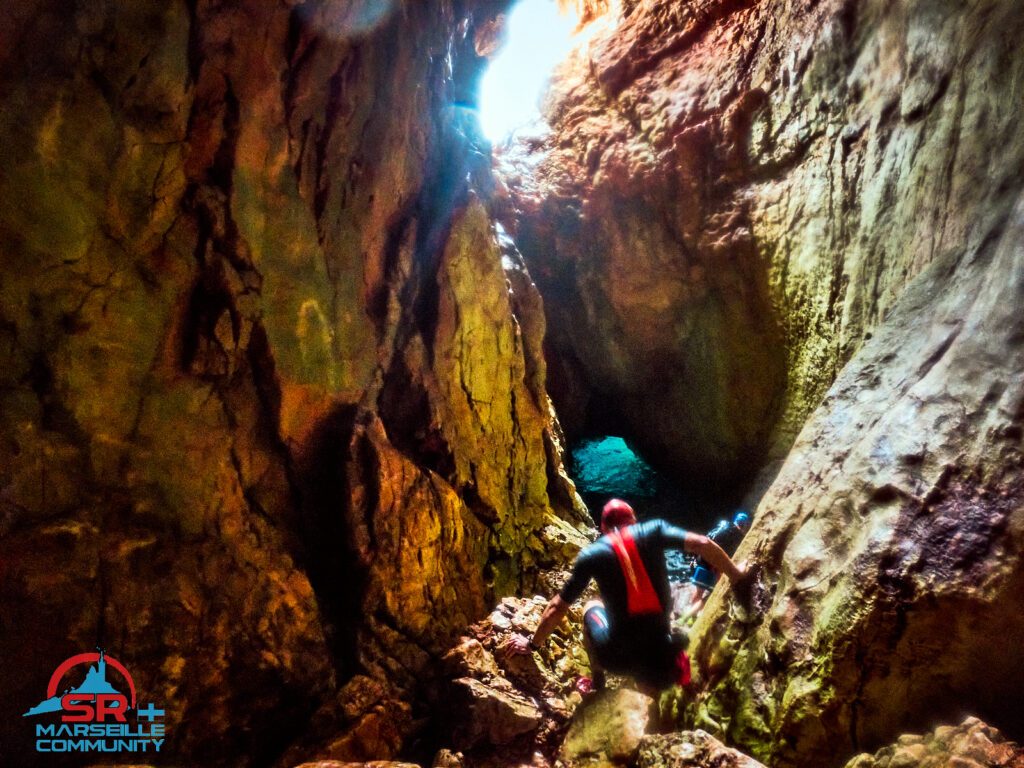 25 km, en 6h, le rythme est ce qu'il est. L'instant s'étire et la notion de temps s'évapore avec le vent d'ouest qui nous pousse vers Cassis. Les calanques sous la pluie sont belles aussi, et le calcaire glissant rend notre périple épique. Piqûres, égratignures, bleus et frictions, les marques de la traversée des calanques se portent comme un blason.
🇬🇧Rainy Sunday, fabulous swimrun! When the rain invites itself at dawn, the run at the start looks like a baptism. Ben, Jess and Akuna think of the gargoyles of Baumettes, these grotesque sculptures that adorn the nearby prison. They embody the seven deadly sins, and the sin of gluttony could well earn us the wrath of the priest of the calanques as we savor this nature finally watered.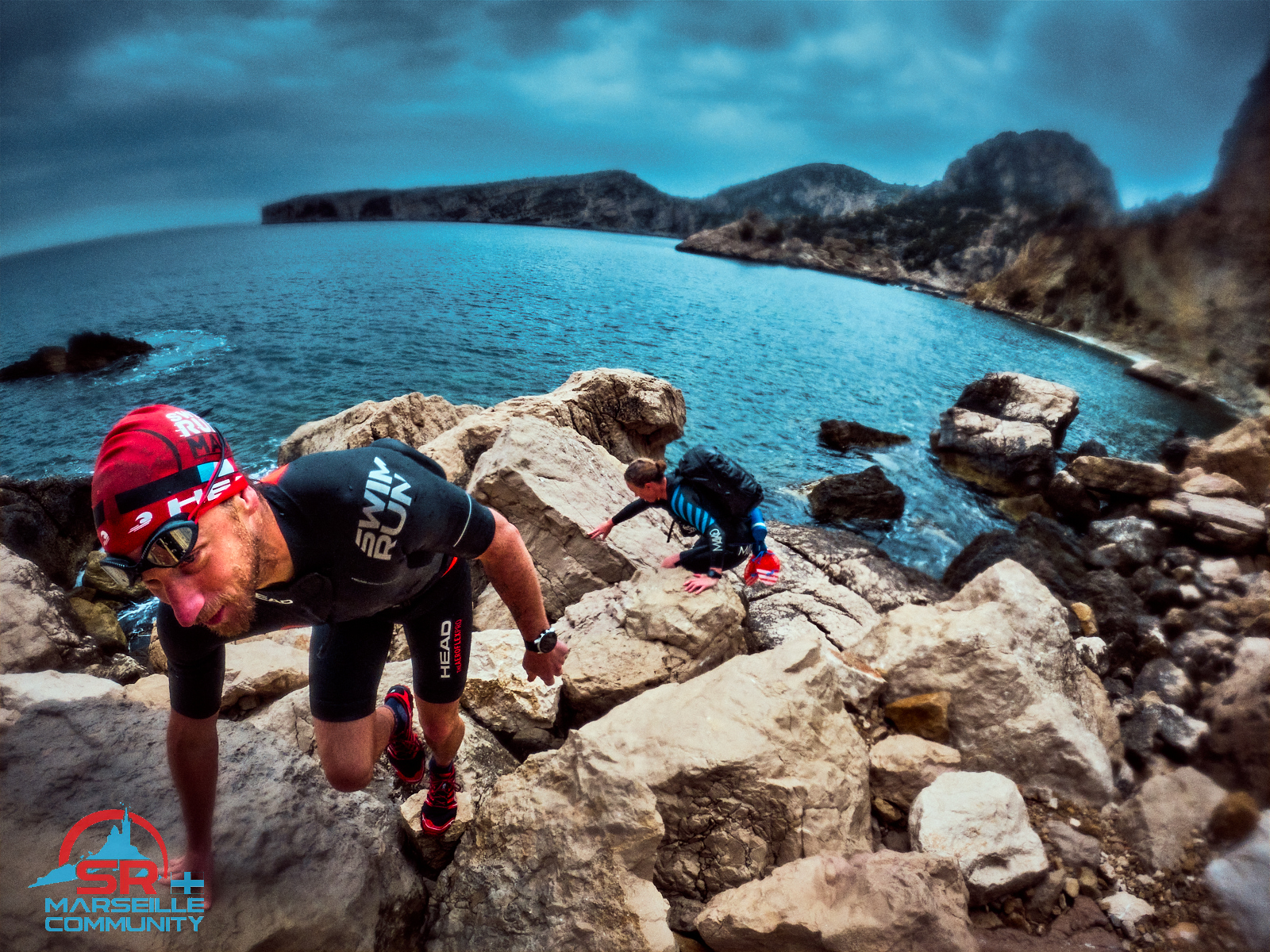 We are alone under the pouring rain in this early morning. A few kayaks crossed at the exit of the siphon of the Capelan cave see us emerge from the depths. A college of jellyfish awaits us on the east side of Sormiou, they will be our companions with a biting humor throughout our crossing. The formation Ben + Akuna and Jess in line, (with Ben acting as an icebreaker with his paddles) proves to be effective, most of the Pelagia noctiluca having the kindness to stay at one meter deep. A stressing moment in the pass of Eissadon where we were like a convoy of goods, during World War II, slaloming between German mines.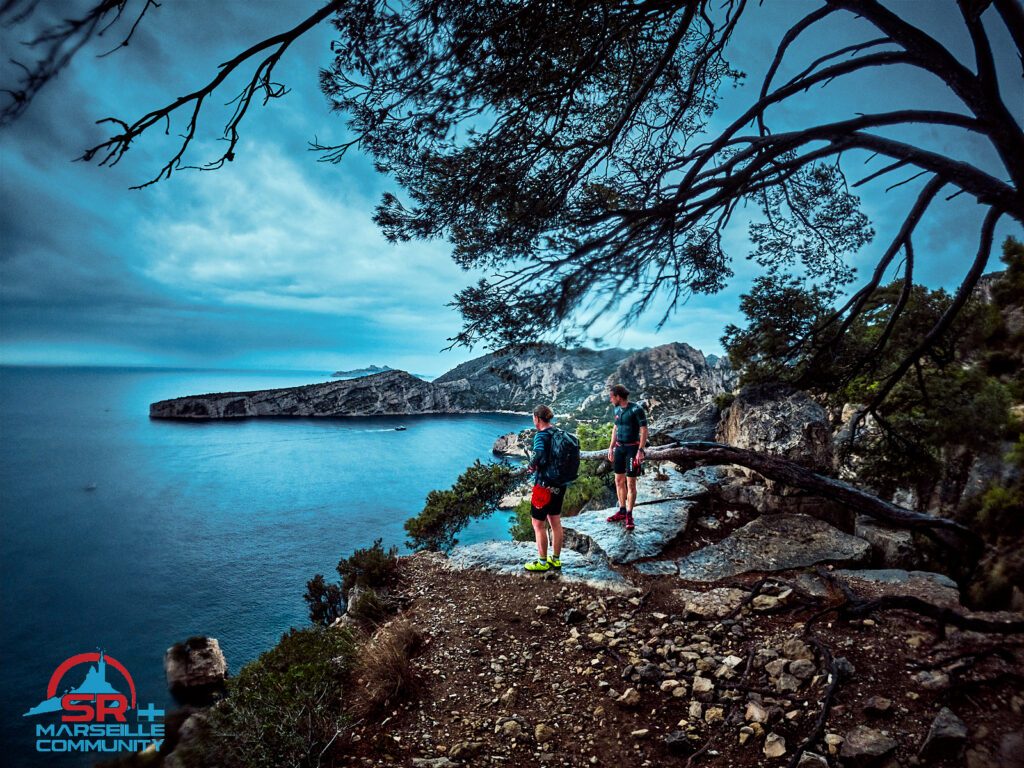 25 km, in 6h, the pace is what it is. The moment stretches and the notion of time evaporates with the west wind that pushes us towards Cassis. The calanques under the rain are beautiful too, and the slippery limestone makes our journey epic. Stings, scratches, bruises and frictions, the marks of crossing the calanques are worn like a coat of arms.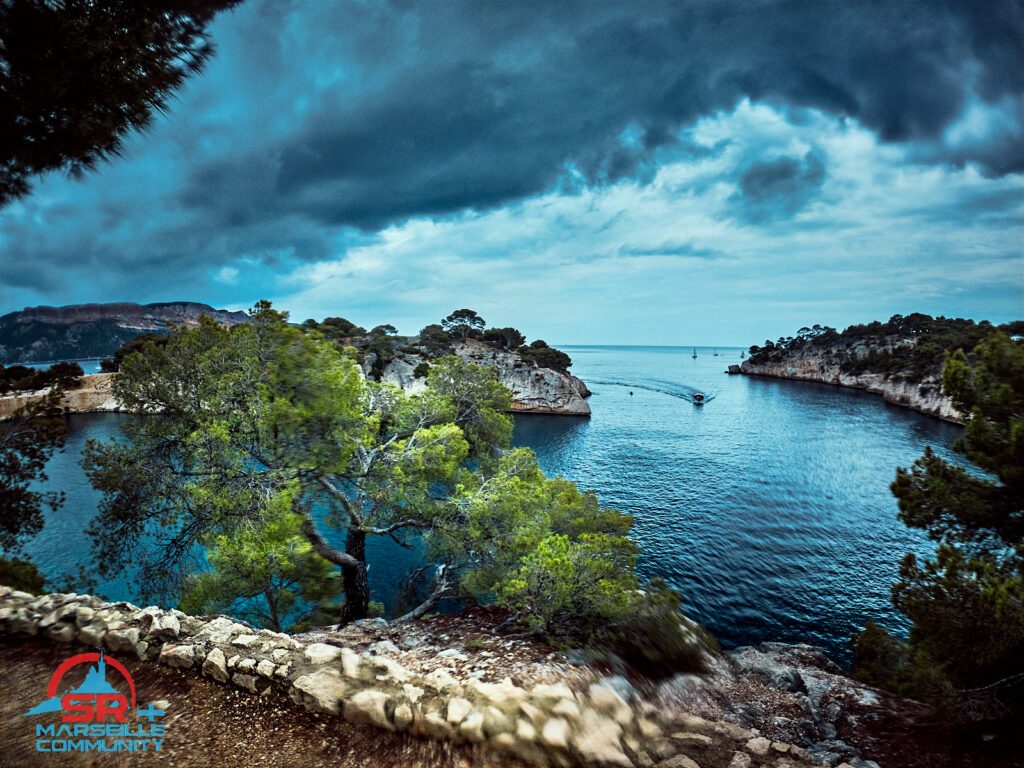 Da ya speak emojis ?
!
. Ben, Jess et Akuna
,
.
,
.
.
.
.
, (Ben
)
,
m.
,
,
.
km,
h,
.
.
.
,
.
,
.
✍️ Akuna
📷 crédit photos Akuna
✍️ emojis Bing AI